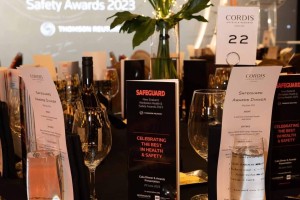 The New Zealand Safety council congratulates all the winners of the 2023 New Zealand Workplace Safety Awards.
It's fantastic to see the industry celebrate the wins where there is so much potential for improvement and some much work yet to do. Well deserved, well done.
The WorkSafe New Zealand/ACC best overall contribution to improving workplace health and safety in New Zealand:
Silver Fern Farms Winner of the Governance category and finalist in the Engagement category.

SAFETY (sponsored by Dentons Kensington Swan):
Calder Stewart
HEALTH (sponsored by WorkSafe New Zealand)
Naylor Love Waikato/Bay of Plenty

WELLBEING (sponsored by Vitae)
Countdown

ENGAGEMENT (sponsored by NZ Safety Blackwoods)
Auckland Council

INNOVATION (sponsored by Anthony Harper)
New Zealand Defence Force and Aeropath

SAFETY-II (Sponsored by HSE Global)
March Cato

COLLABORATION (Sponsored by IMPAC)
Ports of Auckland

GOVERNANCE (Sponsored by Simpson Grierson)
Silver Fern Farms

LEADERSHIP (Sponsored by ACC)
Port Industry Association

PRACTITIONER (Sponsored by NZISM)
Vanessa Matakatea, Ports of Auckland

EMERGING PRACTITIONER (Sponsored by edenfx HSE Recruitment)
Eva Greensill, Auckland City Mission