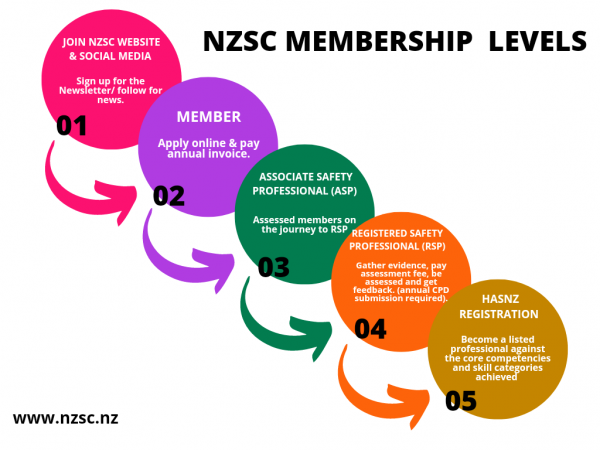 Fees begin at $100 per member, per year and are GST exempt, as our Trust is a Registered charity.

• Membership certificate to display in your office.
• Financial members may also use the letters NZSC to designate both their membership and support for the New Zealand Safety Council.
• As a founding member of HASANZ, membership of the New Zealand Safety Council means you are represented at this expert Governance group, which helps in guiding effective health and safety policy and pipelines for professional development.
• Network with other members across the country or from your local area.
• Workshops with guest speakers and meet fellow members for networking.
• Regular newsletter to keep you informed of safety developments and innovations.
• Membership to NZSC gives you eligibility to apply to list on the HASANZ register, once you have achieved Associate Safety Professional or Registered Safety Professional status through our accreditation programme.
• Mentoring opportunities.
• An ongoing continuing professional development (CPD) programme available to all members.
• Continuous Professional Development tool for the management of career progression, from member to status to ASP and RSP status.

• Training opportunities from a preferred NZQA approved training organization.
• Recognition of prior learning.
• Safety auditors course
• National Certificate NZQA approved training courses
Membership will entitle you to receive regular newsletters, participate in our members' section of the website, become part of our network of injury prevention specialists, and attend workshops, training seminars and an annual conference at discounted rates.
Step 1. Sign up to the site here
Step 2. Fill in a Member Application here Or Corporate Member Application here
Step 3. Pay your Membership fees (You will be invoiced once your application is processed)
Registration as a Safety Professional
Complete the above steps first
Forms required to apply for RSP FORM 1, FORM 2 Please print and fill in and have ready to upload before you fill in the online form below.
To apply to become a Registered Safety Professional (RSP) CLICK HERE
Please be aware that you will be required to outline how you meet 12 Core Competencies when filling in the online form. This is only the beginning of the process. You will then be required to complete a portfolio of evidence to be assessed by our registration panel.
A member of the panel will contact you after you have completed the online form, to discuss the process further.